Neck and Shoulder Massager GESS Tap Pro (Power Tapping Massage belt)
Neck and Shoulder Massager GESS Tap Pro (Power Tapping Massage belt)
The massager has a convenient form in the form of a Horse-Shoe and is easily placed on the body in such a way as to ensure the closest fit to the muscles.
Power Tapping Massage Belt GESS Tap Pro (Black)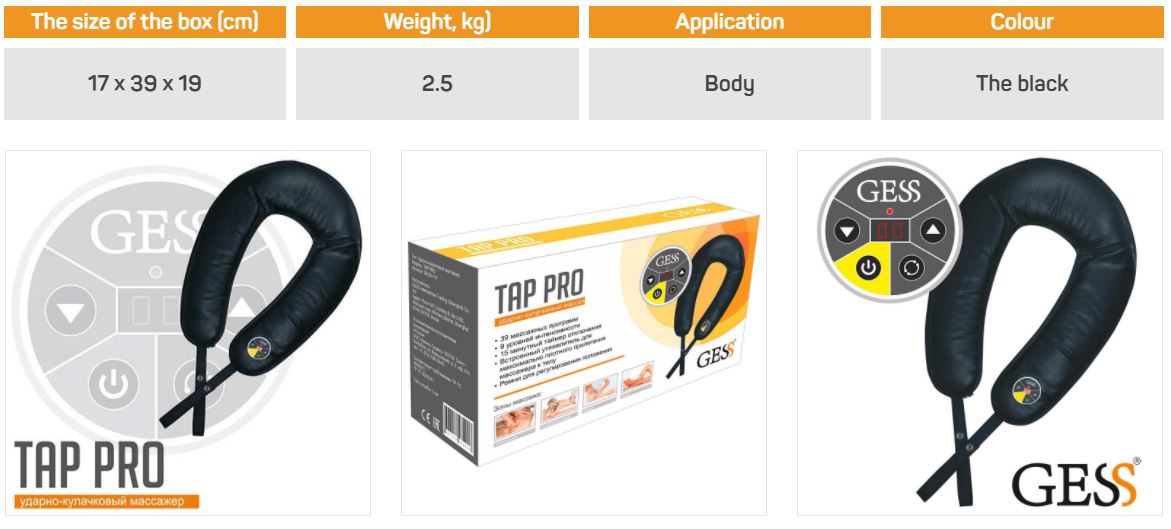 Massager for neck "Tap Pro" stretch your neck and shoulders. Tapping pro masasge acts deeply and effectively. Comfortable shape in the form of a collar, enables the massager to cover tightly the entire neck and shoulder areas, which is often the most problematic.
Place the massager on the shoulders and turn it on. You immediately feel the pleasant tapping massage. The impact intensity can be adjusted depending on the condition of the muscles and physique. Massager Tap Pro from GESS can be used not only for massaging of the cervical-collar zone, but for massage of waist, thighs, buttocks and legs also.
Tap Pro massager would be a good solution if you:
– Spend a lot of time at a desk or computer, and you often feel back and neck pain.
– Do sports and pulled muscles.
– Feel muscular fatigue and want to shake things up and improve the tone.
Main advantages:
– Tapping massage mechanism distinguishes this massager from analogs. Impact on the muscles is the more intense and deep.
– convenient form of a collar provides a close fit.
– 2 belts allow to lock the massager in a comfortable position.
– 12 levels of adjusting intensity and 39 different automatic programs.
– intuitive operation.
– auto power off after15 minutes.
The kit consists of:
– Tapping massager
– Instruction manual
Additional information
| | |
| --- | --- |
| Weight | 2 kg |
| Color | |
| Material | |
| Package's Length (cm) | |
| Package's Width (cm) | |
| Package's Height (cm) | |
| Massage type | Tapping / Knocking |