GESS Ultrasound facial cleansing device YOU GESS-689
GESS Ultrasound facial cleansing device YOU GESS-689
Ultrasound Facial Care GESS YOU, The process of exfoliation and soft skin cleansing without stretching and mechanical damage. After a few sessions the acne will disappear, the skin glands work normal, the upper layer of the epidermis will be refreshed and the skin will become noticeably softer and fresh.
2 in stock
GESS Ultrasound facial cleansing device YOU
Ultrasound face cleansing device "YOU" by GESS
 is a unique cosmetic device whose ultrasound waves have a whole bunch  of beneficial effects on the skin of the face.
Features:
– 

Wireless compact design, nice appearance and easy to carry.

– Gently and effectively buff away rough, dry and calloused foot skins, give you a smooth and nice skin in seconds.

– The cleaning effect is as 3 times as normal skin scrubber, fully whiten and lighten the skin.

– Deep cleansing, promote metabolism .

– Removing the dead cell, sebum remained in a skin. It helps to  clean the skin pollutants. New skin that is under the dead skin will grow up fast. The aged dead skin cell is disappeared and can be absorbed  well in active components.
What "YOU" can be used for:
– Effective pealing. The softest and safest cosmetic  procedures: there are allergies or irritation, the procedure works on  any type of skin.
– Skin toning. Ultrasound  waves have a massage effect on the skin of the face. Such micro-massage  helps you get rid of small wrinkles, making your skin tight and  beautiful.
– Phosphorescence. Photosynthesis a  process of delivering cosmetics to the deeper levels of the skin. 
– Lifting or surgery-free tightening of the skin of the face, neck and the  cleavage area using ultrasound. Ultrasound causes active secretion of  collagen and elastic that make the skin tighter.
Ultrasound pealing is a completely painless procedure, unlike mechanical pealing  with no scarring left. During the procedure all you feel is a pleasant  vibration. Make sure you feel no discomfort during the procedure. It's  enough to use the device 2-3 times a month.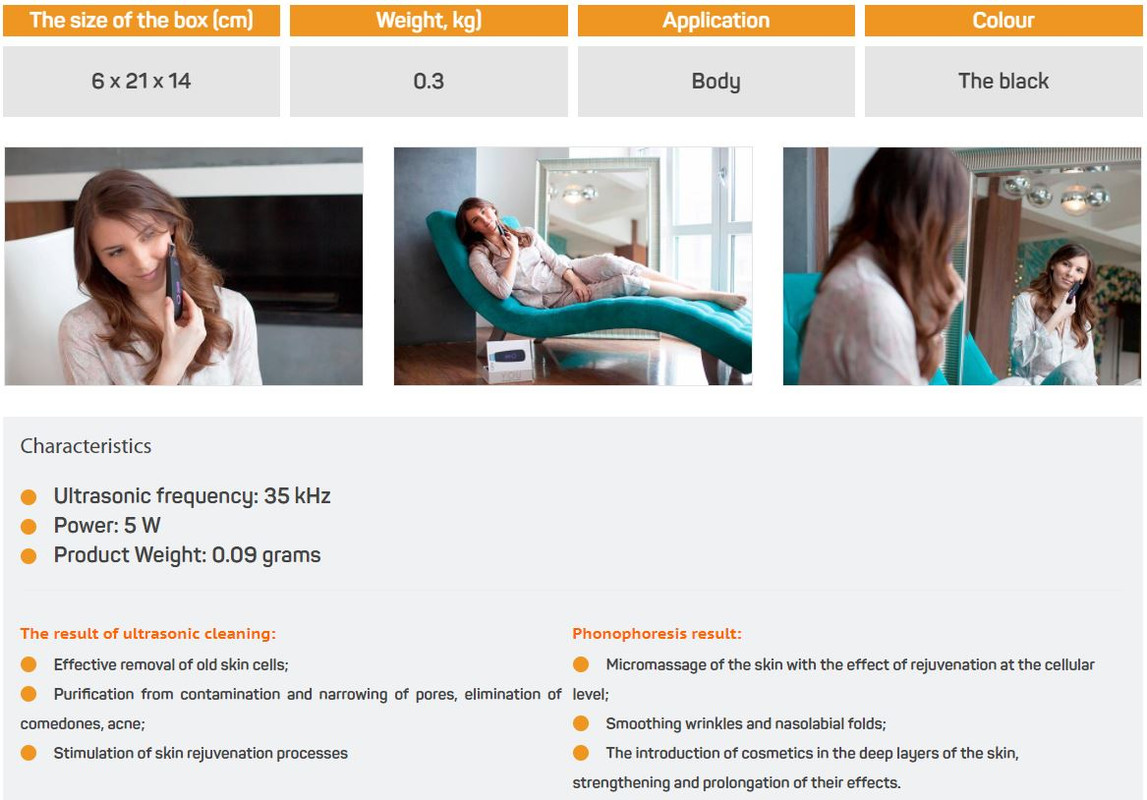 Additional information
| | |
| --- | --- |
| Weight | 1 kg |
| Dimensions | 21.0 × 14.5 × 5.5 cm |
| Product's Condition | |
| Color | |
| Gender | |
| Barcode | 4627078981541 |